CREATIVES and digital marketing
We created Emails, Facebook and Google AdWords Campaigns. While the FB and AdWords campaigns needs budget, the Email marketing is free. We always suggest the small business to start with it. And later to upgrade with the paid campaigns. In the meantime we can integrate the Google Analytics and FB pixel to get insights of the leads and audience. To note that the Swedish Theatre had no website and all the campaigns where through the FB and Email ads. 
Before even to start we performed the brand building, creating the whole brand identity and Style guide.
Respecting all the above we are ready to open SoMe channels of your interest, create graphic designs and video content for FB and Google AdWords campaigns.
Email marketing for subscription, marketing and remarketing is another important channel. Here we create Landing Pages, Subscription Emails, Surveys, applying automation services.
To have better understanding on your campaigns we make Google Analytics and FB Pixel code integration, resulting to creation of the reports with the most important statistics that will help take important decisions.
Branding or Re-Branding: we create the whole brand identity, logotype, typography, patterns, styleguide
Social Media – open channels (FB, Instagram, YouTube, Pinterest), create a logo, header image specifically for the SoMe channel; Create and insert Design and video ads
Google AdWords ads campaigns
Integrate Google Analytics code and FB Pixel
E-mail marketing: create Landing Pages, Subscription emails, Surveys, Automation
Create Reports
Brand identity | Adobe illustrator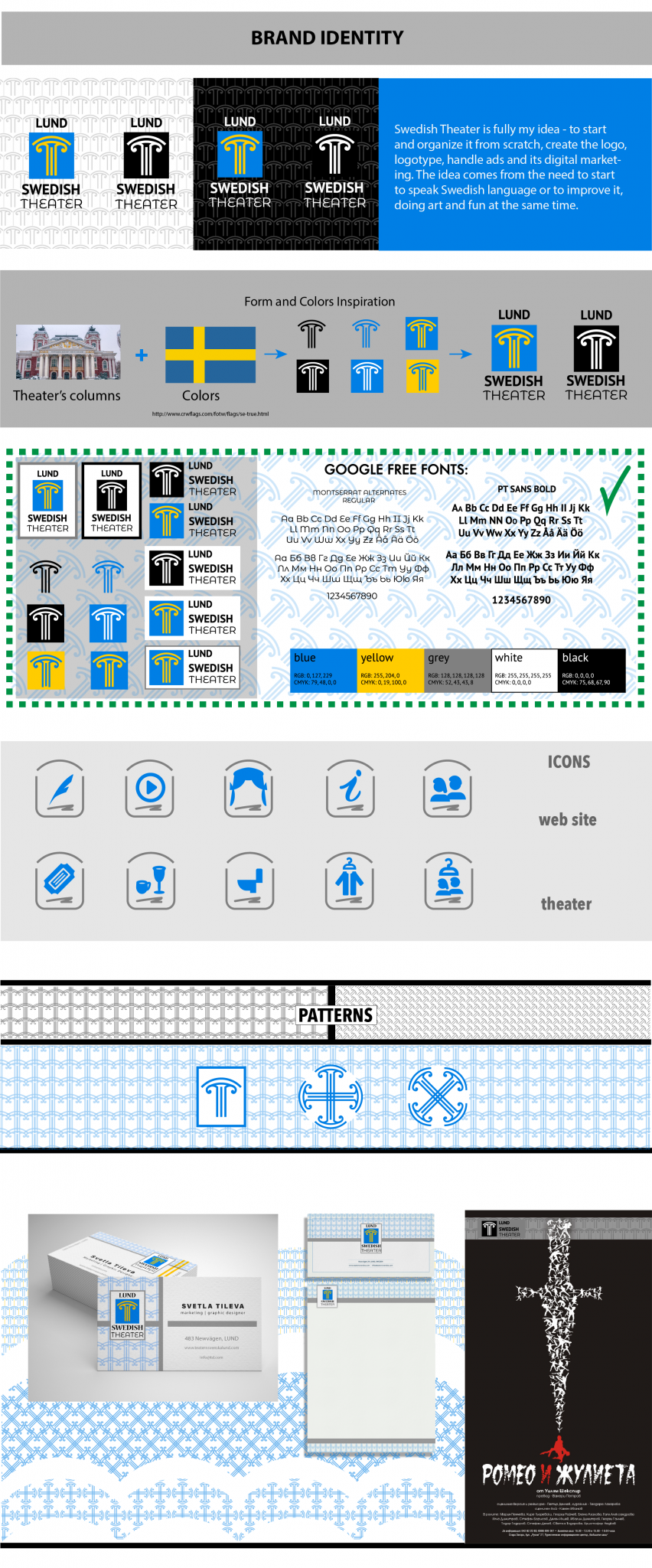 FACEBOOK CAMPAIGNS
The FB campaigns follow certain steps. Staring from deeply understanding or creating from the beginning the brand identity, go to create for the brand audience that is interested. Make it talking, sharing, intriguing, increasing the interest and willingness to interact. 
FB TEASER AD
There is something coming soon. What it will be? Can you guess? Aim: awareness, interaction, increasing the interest
FB AWARENESS AD
The aim is to make people talk about it, sharing their previous frustrating experience, share and wonder what exactly it is, how it will help
FB REVEALING AD
The moment of revealing the idea. All the expectations created before will explode here, searching for more information, sharing and talking. A lot of discussions about the idea, will it work, why yes or no, is it better, what a nice experience will be
FB SUBSCRIPTION AD
Acting in a theatre? Learning a language? Networking and building connections? Knowing new cultures? Make fun? What great idea. Boosting the discussions. Make subscriptions. FB Ads were supported in parallel with Email marketing ads
FB BOOSTING SUBSCRIPTIONS AD
Boosting the subscriptions, answering on a lot of questions, support
FB VIDEO AD
Boost subscriptions with the video ad, giving discounts for a short period. The campaign was supported with Email campaign simultaneously to all subscribed trough the previous ads
FB GAME AD
Boosting subscriptions by playing a game. Trough mentioning friends that could be interested in the event. The aim was to create fun, increasing awareness, leads, talking, spreading, shares.
Creatives for Email campaigns
Email campaigns | Newsletter subscription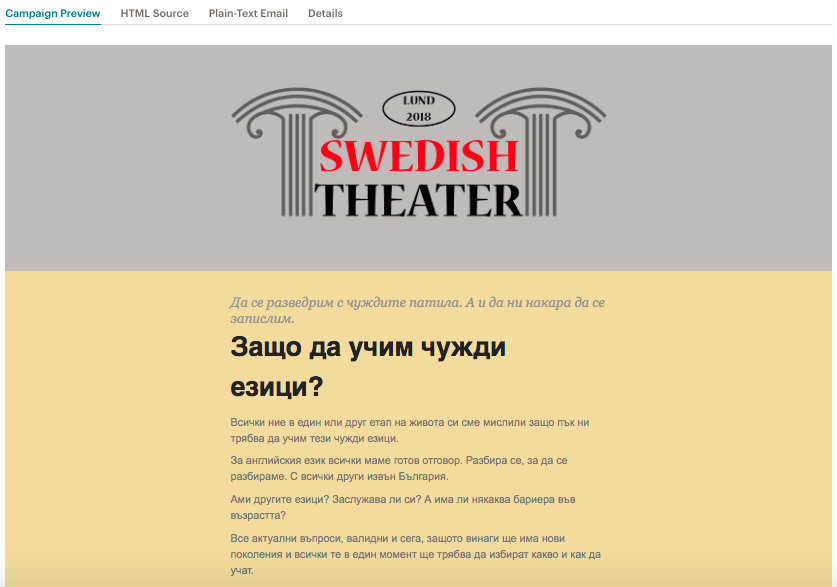 Email campaigns | Boosting subscriptions | Surveys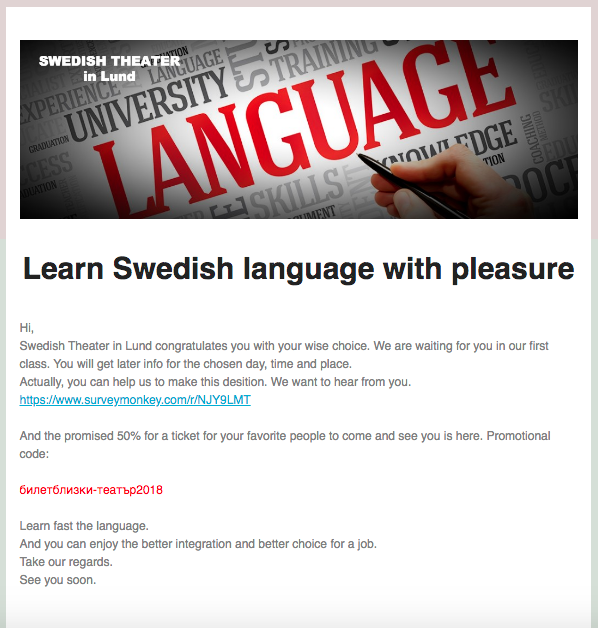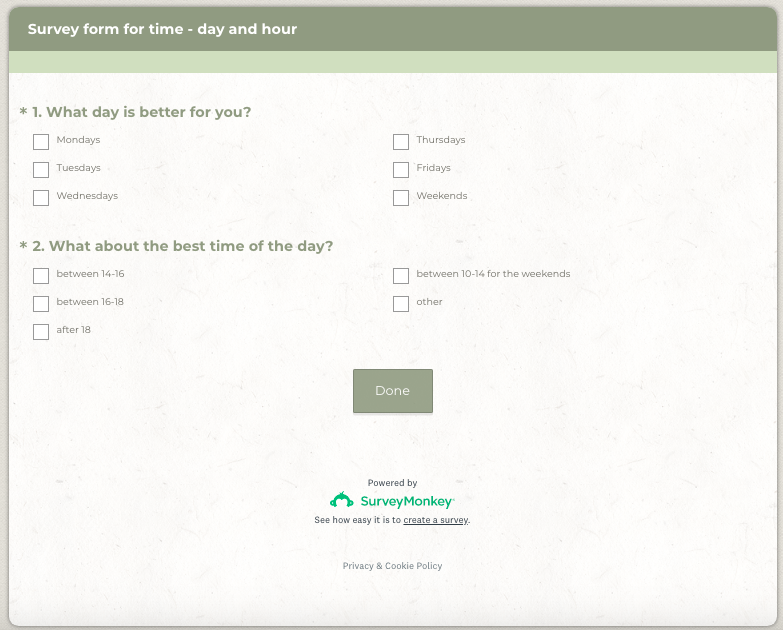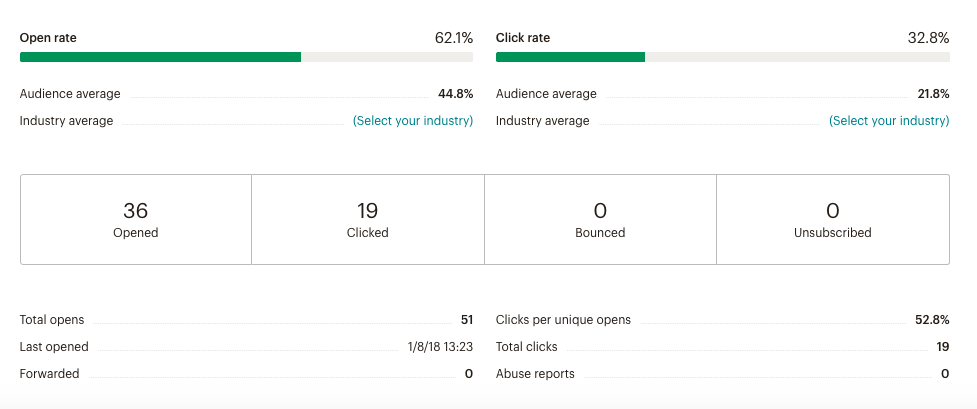 Creatives for AdWords campaigns 
AdWords campaigns | Teaser Ad
             … Coming soon ….
AdWords campaigns | Conversions Ad
…… coming soon …
Address
MINC, Anckargripsgatan 3,
Malmö, SWEDEN